Last updated on January 20, 2023
Las Vegas is known for debauchery and with the moniker "Sin City" it's not hard to see why. With a nightlife of shows, clubs, and gambling that is unparalleled, a main strip that is buzzing with all types of characters, and a food scene that is adventurous and bold, Las Vegas is a once-in-a-lifetime experience. It certainly makes uncovering some notable facts about Las Vegas an interesting undertaking.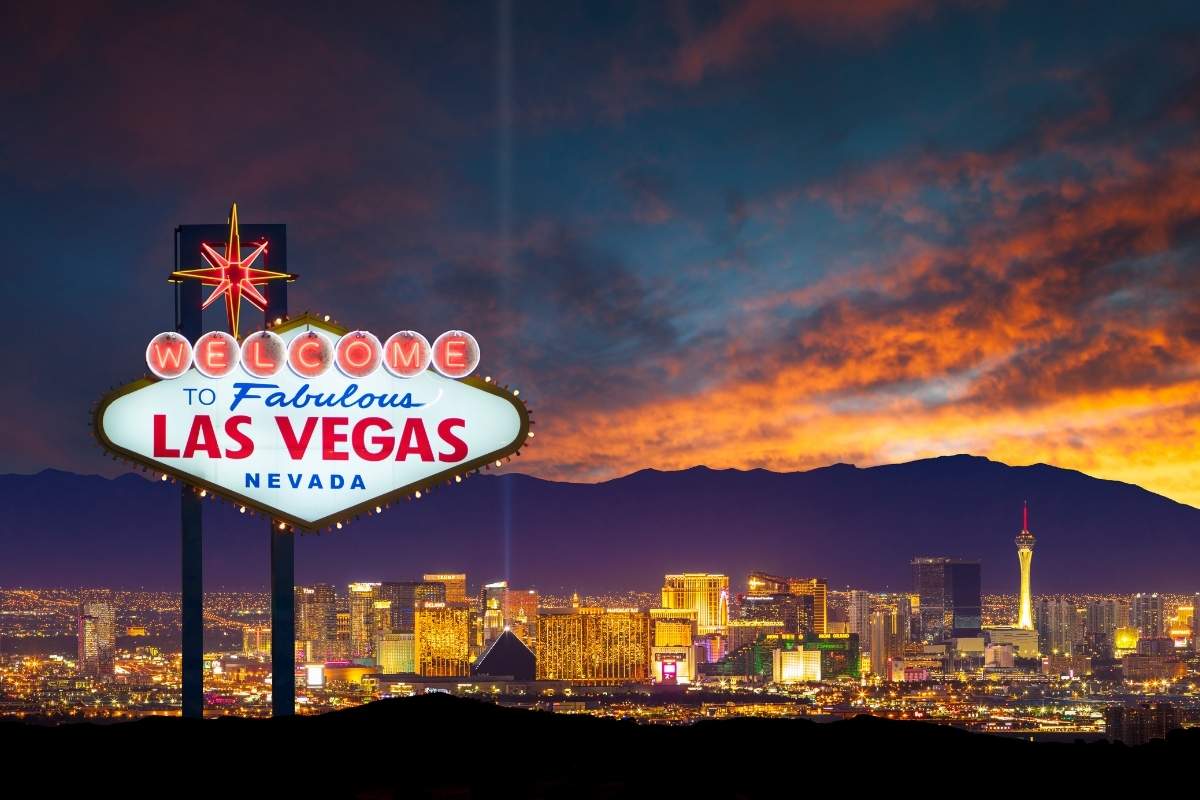 Las Vegas may be famous now for a multitude of reasons, but it also has some historic mob ties, underground tunnels, celebrity entertainer residencies, and a desert landscape beyond the city limits that is notable. This gem in the desert is full of intriguing facts and history! We dove deep into the Las Vegas underbelly to bring forward some of the best of the best facts about Las Vegas.
Read on to learn more!
---
Think you're an expert already? Then jump right in and test your knowledge with our challenging Las Vegas quiz! Or if you're not quite ready for that, keep reading on to learn some fun and interesting facts.
---
50+ Facts About Las Vegas
General Fun Facts About Las Vegas
~ Las Vegas translates to "The Meadows" in Spanish. So why is a place found in the middle of the desert referred to as a meadow? In 1829, a trading scout traveling on the Old Spanish Trail from New Mexico to southern California discovered a shortcut that included freshwater springs – life-saving water during a long and dry journey. The spot was thereby marked by the title of Las Vegas by word of mouth and then labeled as Las Vegas Springs on a map of the area compiled by John C. Fremont in 1844.
~ The moniker "Sin City" was first referenced for Las Vegas in the 1963 book Las Vegas: City of Sin? that was penned by two casino executives. The book was an exposé of Las Vegas at the time, talking about the city's glittery surface and the dichotomy of its slimy underbelly.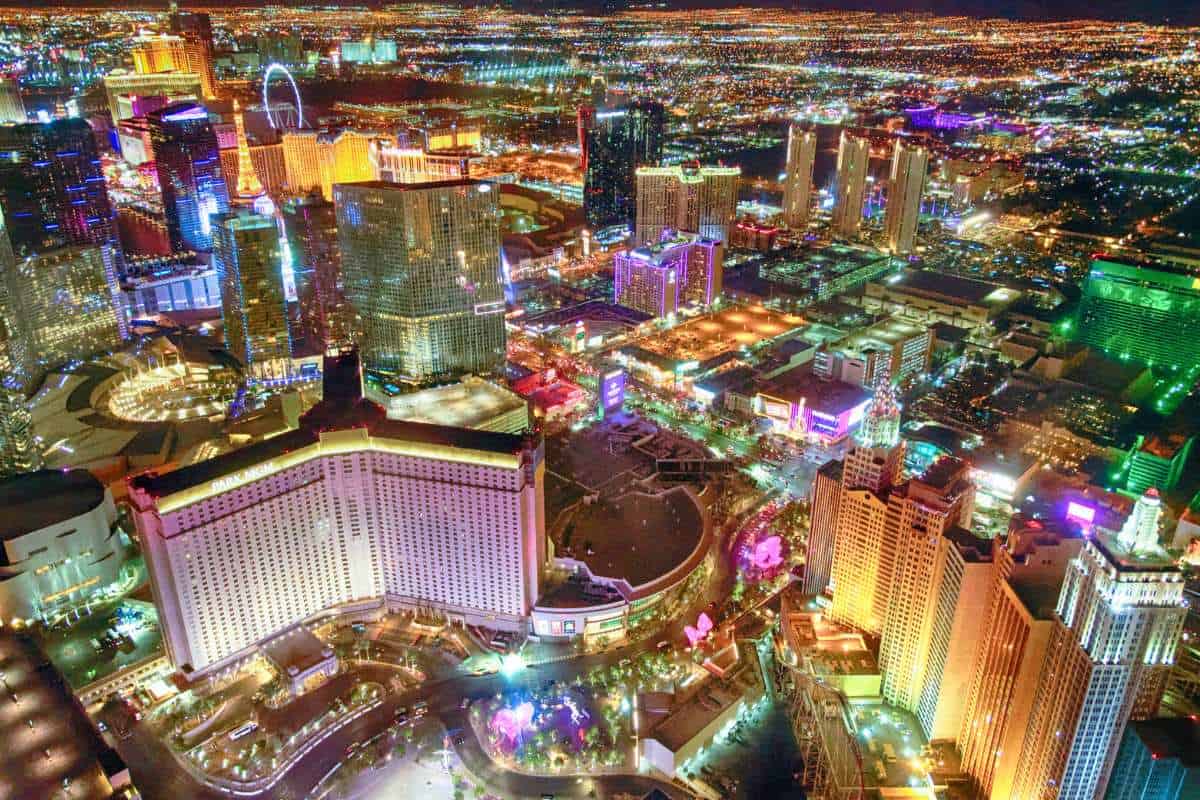 ~ The annual rainfall in Las Vegas totals slightly over four inches.
~ There are an average of 150+ marriages per day that occur in Las Vegas. Hence why Sin City is known as the "Marriage Capital of the World". It is the spot for quickie weddings as there is no waiting period, meaning you can get a marriage license and married on the same day. How much quicker can you get than a wedding drive-thru tunnel of love? Happy couples can have their pick from some unique wedding chapels the city has to offer (Elvis in a little white wedding chapel, anyone?). In fact, many people visit Las Vegas just to get married!
~ The most recent numbers show that more than 32.2 million people visit Vegas per year. Makes sense why most Las Vegas residents avoid 'The Strip' at all costs!
~ The beautiful fountains and man-made lakes throughout Las Vegas use grey water to run. What is grey water? Recycled water from sinks, bathtubs, and showers throughout the city. You may want to think about that before you take a midnight swim.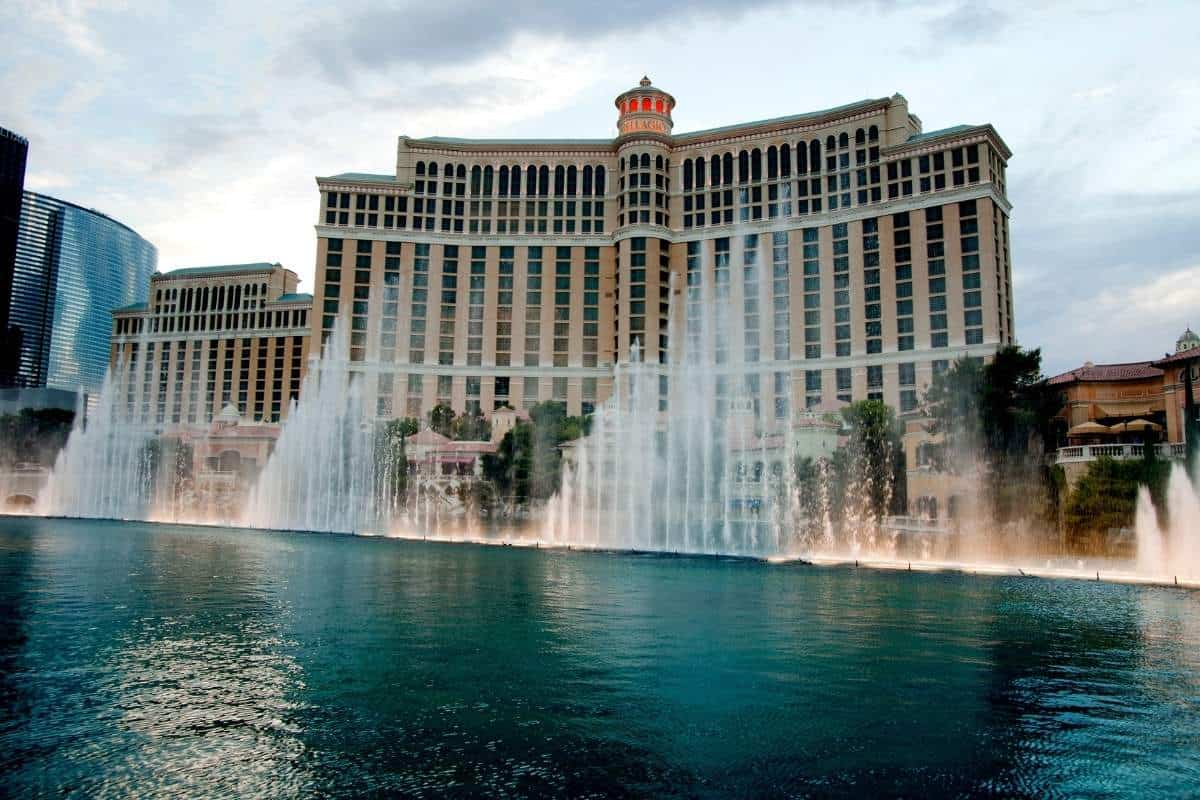 ~ It is estimated that Las Vegas gets up to 90% of its water from Lake Mead, a reservoir formed by the Hoover Dam on the Colorado River. However, with quickly dropping water levels impacted by climate change, it is only a matter of time before Lake Mead dries up.
~ According to Statista, there are over 150,000 hotel rooms in the Las Vegas valley area. These rooms come in handy to serve the 51.5 million people that fly through McCarran International Airport annually, the ninth busiest airport in the United States. Pre-pandemic numbers McCarran airport was the seventh busiest airport and we're sure it will creep back up in the rankings again.
~ The Smith Center for Performing Arts, located downtown in Las Vegas in Symphony Park, is Southern Nevada's leading performing arts center and is ranked as one of the top 10 theater venues in the world.
~ There is no shortage of things to do in Las Vegas. If gambling, slot machines, or a quickie wedding isn't your cup of tea, how about driving exotic cars, firing assault rifles, digging with heavy machinery and driving dump trucks? These are all available on a journey to Las Vegas. Really anything is possible in Vegas.
History of Las Vegas
~ The first structure built by non-native settlers in the area that is now Las Vegas was built in 1855 by Mormon missionaries.
~ The prospect of enormous profits from legalized gambling and prostitution proved to be a strong attraction for organized crime syndicates from other parts of the USA. Leading to prominent figures such as Bugsy Siegel, who founded The Flamingo, used mob money to invest in Las Vegas. Organized crime largely created contemporary Las Vegas and the shift from downtown Las Vegas to luxurious resorts and casinos along the Strip.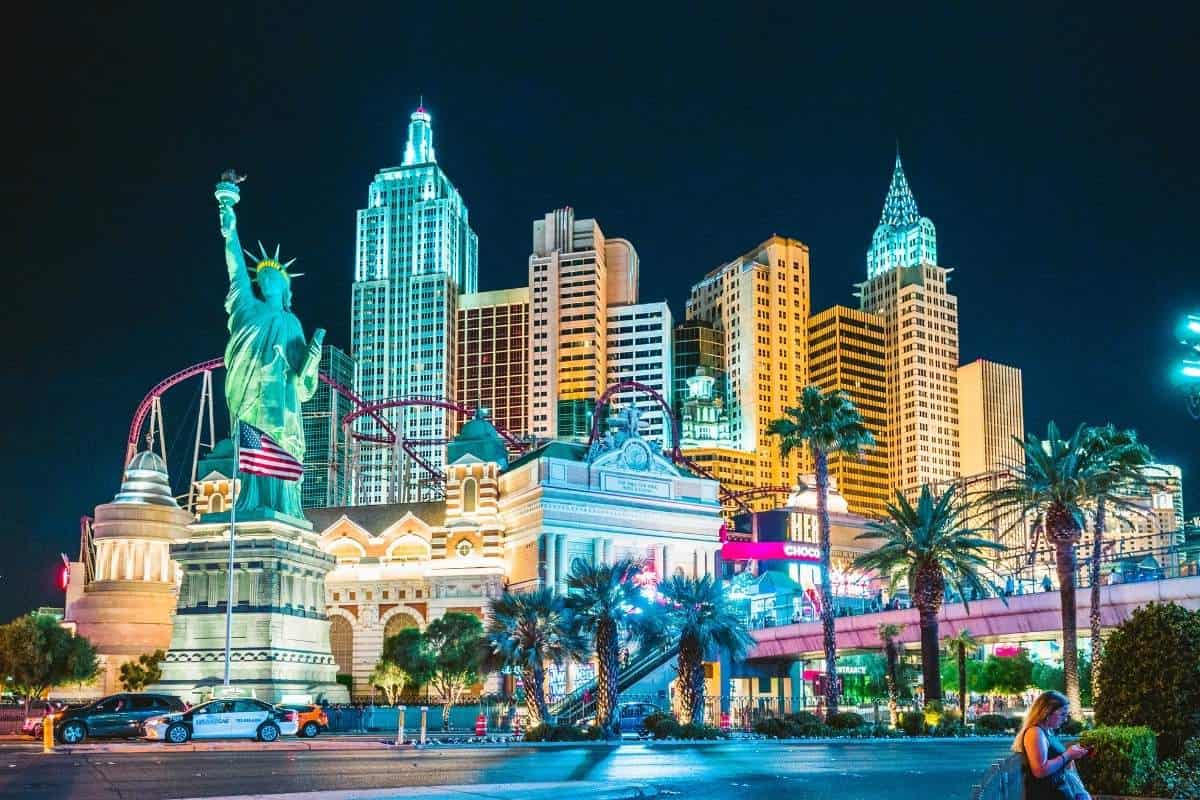 ~ When Nevada legalized gambling in 1931, it led other parts of the United States to request the recall of Nevada's statehood. Guess what? That didn't happen.
~ Fremont Street in downtown Las Vegas was the first paved street in Las Vegas.
~ The Strip's first wedding chapel, the Little Church of the West, opened in 1942.
~ The military famously detonated over 100 nuclear bombs above ground at the Nevada Test Site between 1951 and 1963. Mushroom clouds from these tests were visible from the Las Vegas strip and postcards at the time proclaimed Las Vegas as the "Up and Atom City."
Las Vegas Gambling Facts
~ Combined, Nevada casinos combined earned $1.315 billion in July 2022, marking the 17th consecutive month they have hit over $1 billion in revenues. These figures are bolstered significantly by the revenues earned by Las Vegas casinos.
~ There are more than 160,000 slot machines to choose from in Sin City.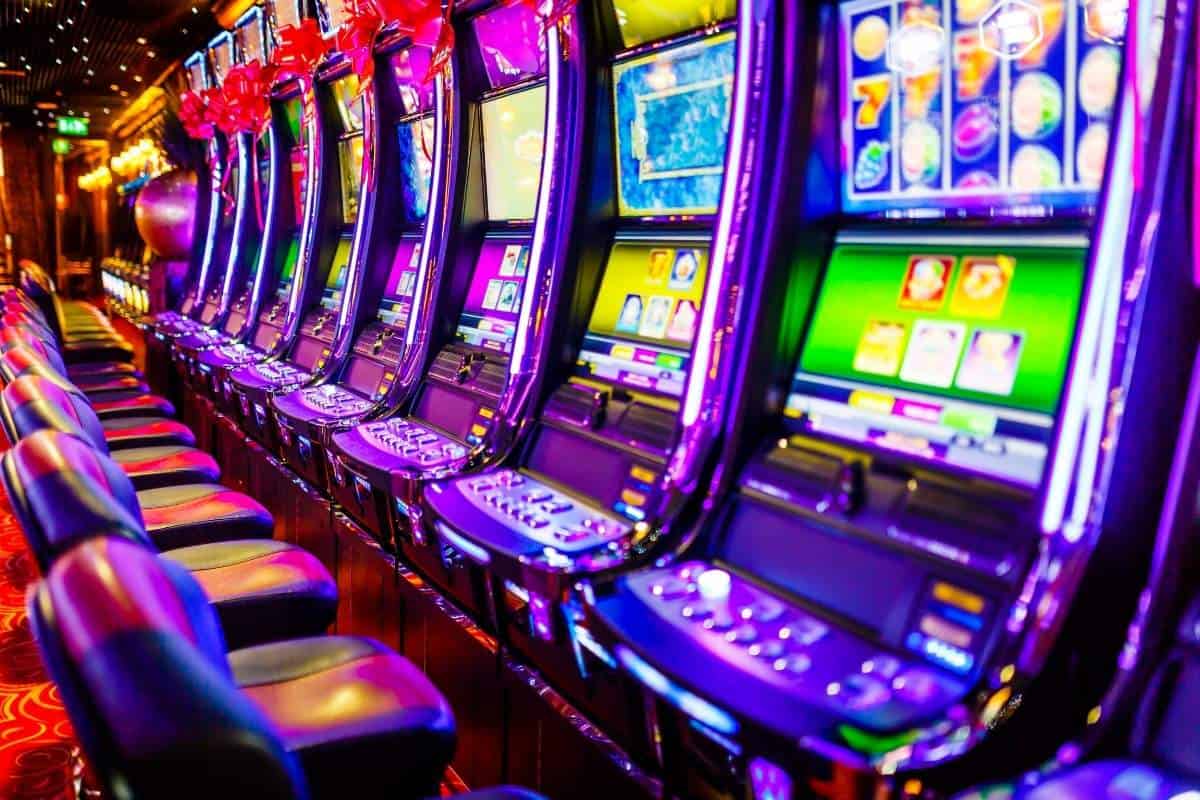 ~ Las Vegas is the gambling capital of the world. A study conducted showed that although 15% of people visit primarily for gambling, about 71% also partake during their visit.
~ Sports betting in Las Vegas accounts for more than 2% of the total income of the state of Nevada.
~ In the 1980s a man named William Lee Bergstrom walked into Binion's Horseshoe Casino on Fremont Street in Las Vegas with a suitcase containing the rough equivalent today of $2.31 million dollars and placed the largest sum on a bet in a casino.
~ The biggest payout from a slot machine ever happened in 2013 at the Excalibur Hotel when a person won $39.7 million after spending just $100.
~ Coin slot machines are exceptionally rare, but there is one casino on the Las Vegas strip that still takes coins. Look for this coin slot machine at Circus Circus to get that nostalgic feeling of inserting coins and trying your luck!
~ Nearby Boulder City, is one of only two cities in Nevada where gambling is prohibited.
Famous Las Vegas Strip Facts
~ The full Las Vegas Strip, known officially as Las Vegas Boulevard, and is approximately 4.2 miles (6.8 km) long.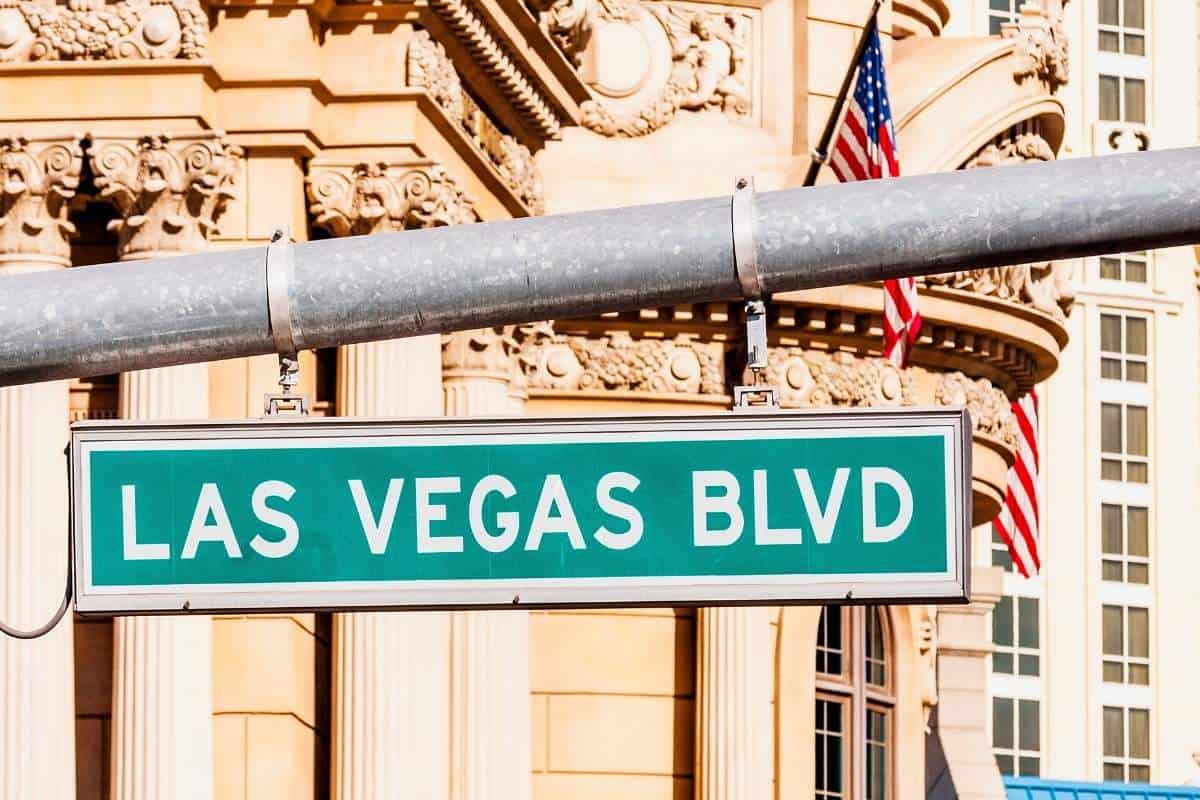 ~ The famous Las Vegas Strip is actually not located within the city limits of Las Vegas! It is immediately south of the Las Vegas city limit and is in the unincorporated towns of Paradise and Winchester falling under the jurisdiction of Clark County.
~ Rapper Tupac Shakir was famously murdered in a drive-by in 1996 on the Las Vegas strip. The car he was driving in was stopped at a red light on the corner of Flamingo Road and Koval Lane when unknown assailants opened fire.
~ Rumor has it that the Fountains of Bellagio cost between $10,000 to $15,000 daily. This free attraction, directly in front of the Bellagio Resort, boasts a magical fountain show set to music every 30 minutes between 3 pm and 7 pm. The show uses over 1,200 water nozzles and nearly 5,000 lights and is one of the most popular things to do in Las Vegas.
Las Vegas Food
~ Shellfish consumption (shrimp, crabs, lobster, squid, oysters, scallops, and snails) in Vegas is over 60,000 pounds per day – that's higher than the rest of the United States combined!
~ Las Vegas is heralded as a "Foodie Haven" and rated as one of the top 10 locations in the country for amazing food opportunities.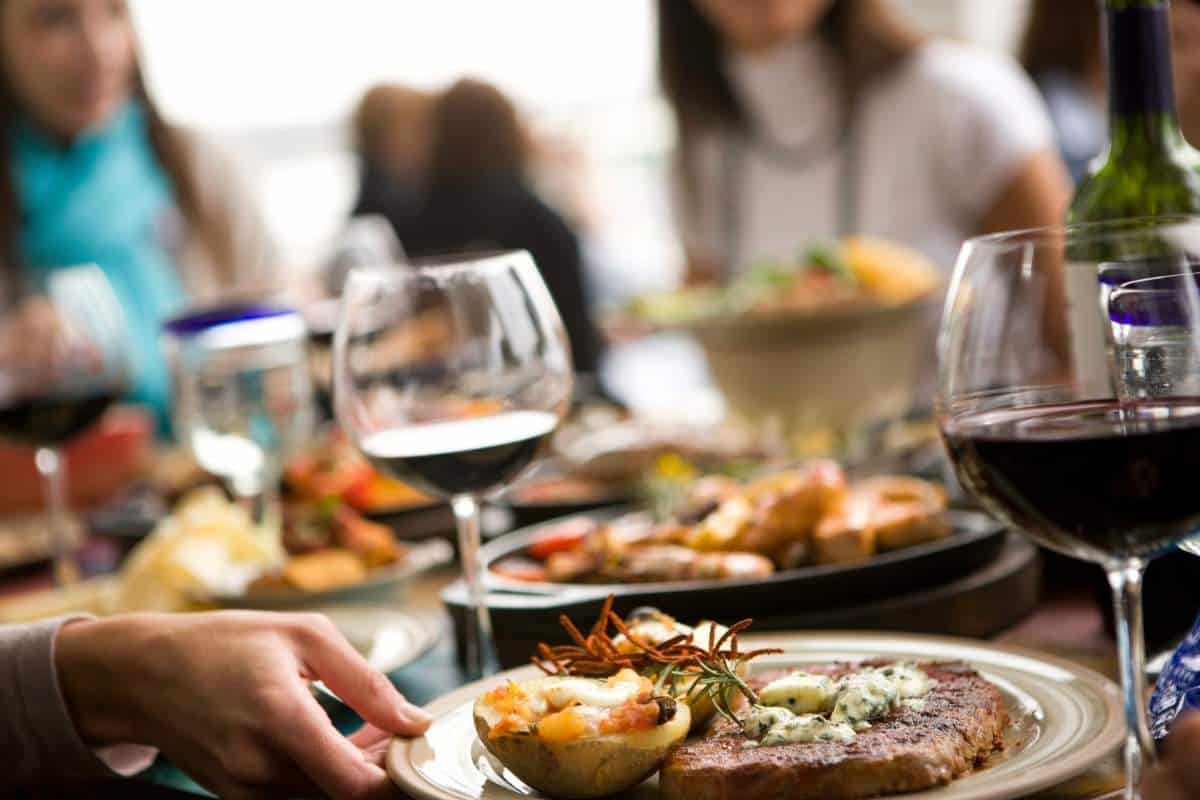 ~ For a completely immersive sensory experience, BLACKOUT is a fine dining restaurant that serves diners in complete darkness. Taking out the eating with your eyes type of experience so you can only rely on taste.
~ There is a restaurant in Las Vegas that is called "Heart Attack Grill". Located on Fremont street, it has a core mission of embracing and promoting an unhealthy diet of incredibly large hamburgers. In this hospital-themed restaurant, customers are referred to as "patients," orders are "prescriptions," and the waitresses are "nurses." Further, they encourage those who weigh over 350 pounds to step on a cattle scale in front of the restaurant crowd to be invited to unlimited free food.
~ Some of the best Las Vegas restaurants have secret menu items (don't just rely on what is written in the menu)! Things like mouthwatering grilled eggplant at a steakhouse, ramen bowl at an American comfort food joint, an Oscar-style poutine that includes crab meat and béarnaise sauce, and bone marrow flatbread are just a taste at some of these secret menu items. Sometimes you just have to sweet talk your host
Facts About Las Vegas Hotels
~ The Stratosphere holds the title of the tallest observation tower in the United States! The iconic hotel reaches 1,149 feet and also is the second tallest free-standing structure west of the Mississippi River.
~ Standing tall at 550 feet and measuring 520 feet in diameter, the High Roller Ferris wheel used to hold the record for being the tallest observation wheel on the planet. It was dethroned when the Ain Dubai Ferris wheel opened in the United Arab Emirates in 2021.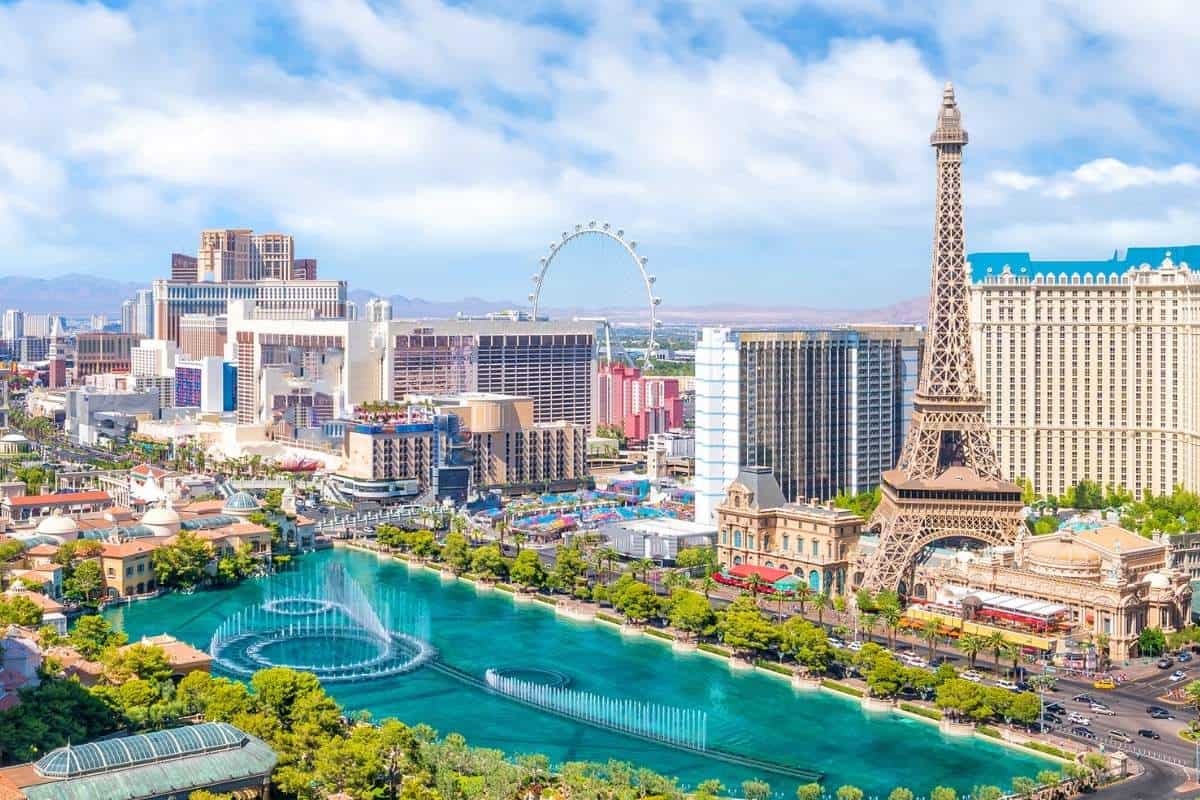 ~ Golden Gate Hotel & Casino is the oldest hotel and casino in Las Vegas, originally opening in 1906 as Hotel Nevada. How much did room and board cost at Golden Gate Hotel in 1906? $1 per day.
~ Golden Gate Hotel is also the location of Las Vegas' very first telephone. The telephone number was "Ring 1, please."
~ Benjamin "Bugsy" Siegal was an American mobster who was a driving force behind the development of the Las Vegas Strip. He was the majority owner of the Flamingo Hotel & Casino which was the third resort to open on the Strip and remains the oldest resort on the Strip in operation today. It is also the last remaining casino on the strip that opened before 1950 that is still in operation. Rumor has it that Bugsy named the hotel The Flamingo after his showgirl girlfriend, Virginia Hill, who had long legs. However that is an urban myth and the name is actually because the owners viewed flamingos as a good omen.
~ Here's a fun fact: in some Asian cultures, the number four is considered unlucky. In Chinese for example, the number four is bad luck because it sounds like the Chinese word for "death". This is why many hotels in Las Vegas don't have floor numbers that start with the number four. Hotels like The Rio and The Encore for example are both missing floors 40-49.
~ The Venetian Las Vegas is the second largest hotel in the world. In fact, Las Vegas is home to more than half of the 20 largest hotels in the world!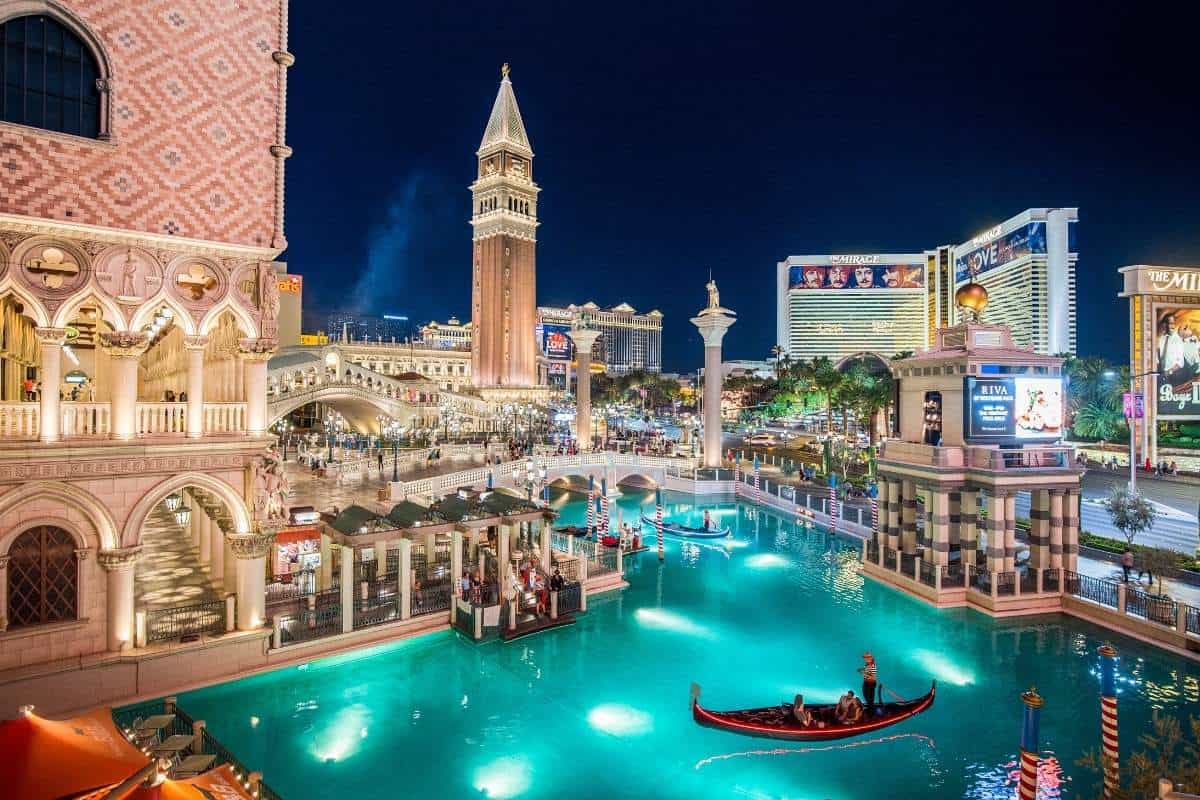 ~ The huge decorative bronze lion at the MGM Grand Hotel weighs more than 50 tons and is the largest bronze sculpture in America. The lion iconography used to be bigger than just a bronze lion and personified inside when the MGM Grand used to have a 5,000 square foot lion habitat inside the casino. From 1999 to 2012, six lions were shown daily with a tunnel made of glass that ran through the habitat for up close viewing. The lion habitat closed in 2012 when MGM Grand underwent a full renovation.
~ In the 1960's Howard Hughes, one of the wealthiest men in the world, checked into the penthouse of the Desert Inn and never left; he stayed within the confines of his hotel room for four years. A year into the four year stay, he bought the property outright because the owners tried to get him to leave. He then went on to continue buying Las Vegas hotels and at one time had control of one third of the revenue earned by all the casinos on the Strip.
~ You can get a lucky strike in the Kingpin Suite at the Palms Casino Resort. It is one of the only hotel rooms that not only has two private bowling lanes, but game tables and a full bar. The 4,240 sq ft suite fits 10 guests and provides endless fun!
~ Les Folies Bergère had the quintessential Vegas showgirl look and was a show that ran for an astounding 49 years and 29,000 performances at the Tropicana hotel and casino. The show opened it's doors in 1959 and stands as the longest-running show in Las Vegas history.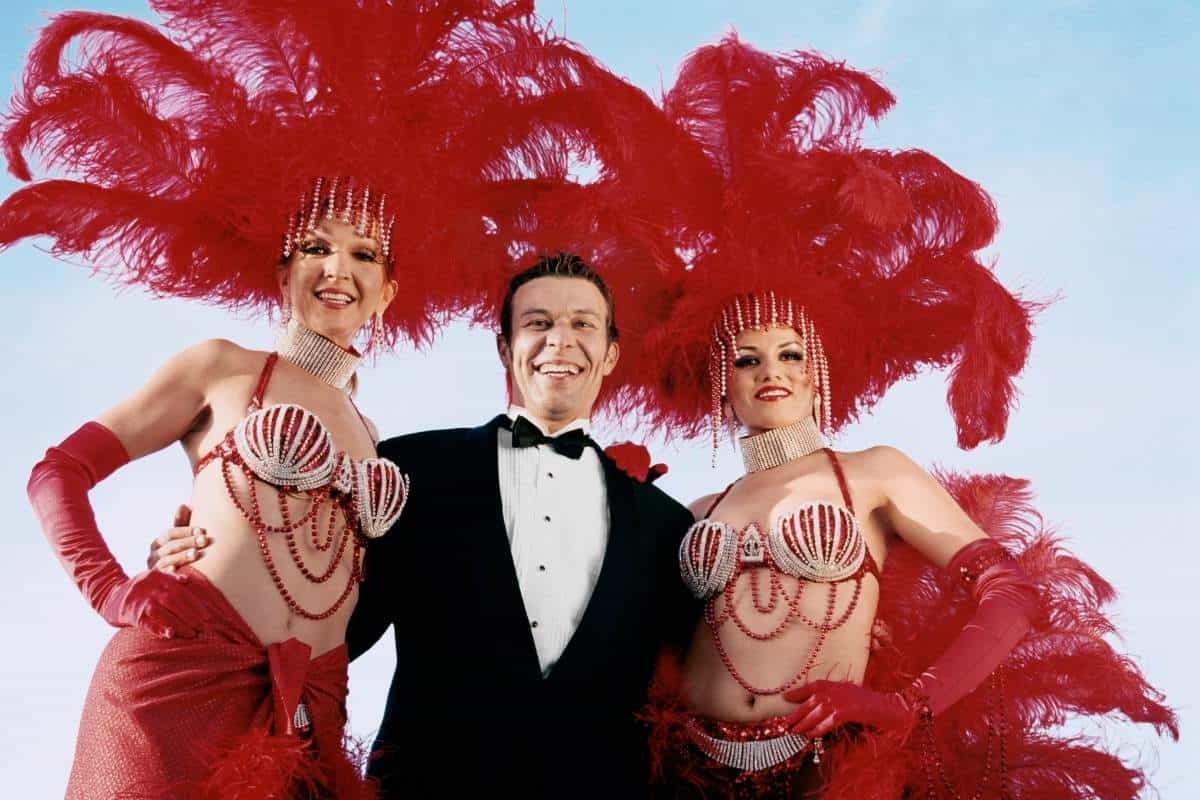 ~ Probably one of the most fun facts about Las Vegas: You can waterslide through a SHARK TANK at the Golden Nugget Casino.
~ Penn and Teller, the famed magician duo, have been performing in Las Vegas for over 20 years. They have the longest-running show at the Rio.
Celebrities in Las Vegas
~ Big stars such as Britney Spears, Elvis, Bette Midler, Cher, Elton John, Donny and Marie Osmond are just a sample of some of the names that have headline shows in Las Vegas. The award for highest-grossing residency so far though goes to Celine Dion and her A New Day series which had almost 3 million people come to see grossed $480.5 million.
~ Britney Spears was famously married for 55 hours in Las Vegas.
~ As a way to promote an upcoming concert announcement, Michael Jackson wanted to build a 50-foot robot replica of himself moonwalking. He died before this dream became a reality.
~ Elvis performed an amazing 636 sold-out performances during his run at the International Hotel! The International Hotel became the Hilton before becoming Westgate Las Vegas Resort & Casino in 2014.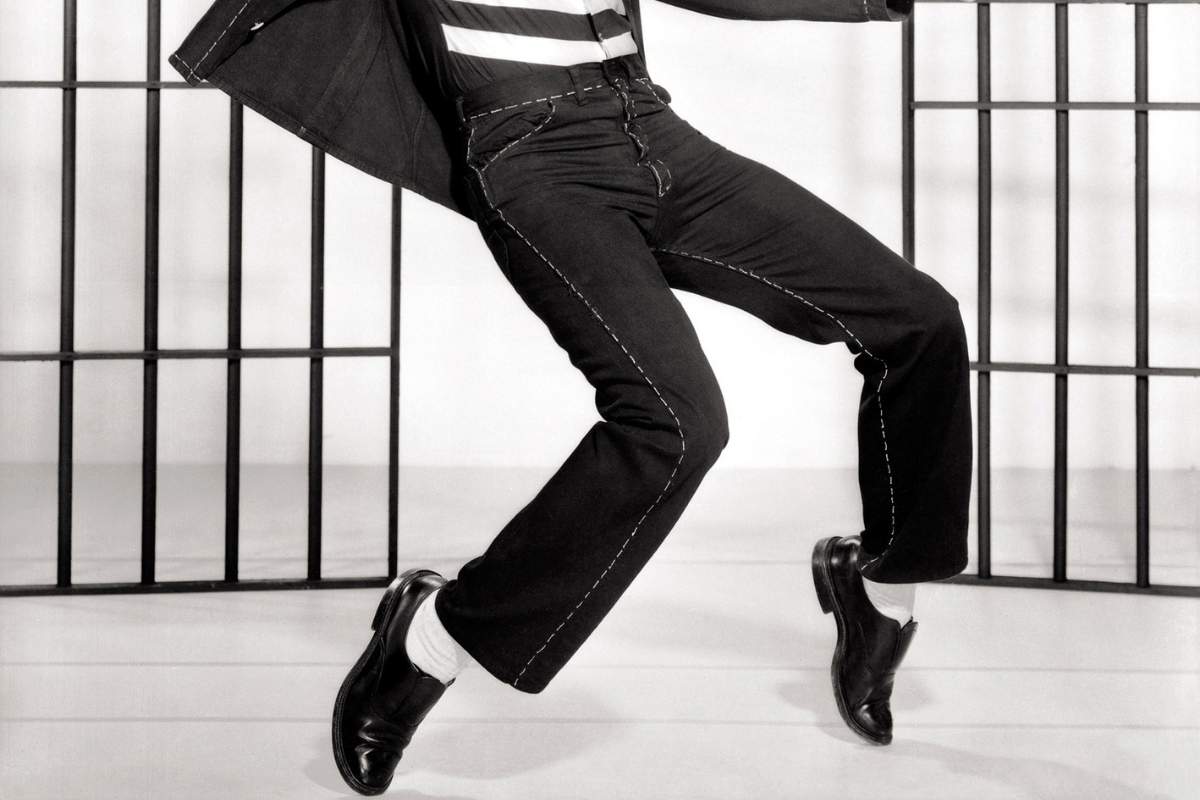 ~ The Rat Pack, consisting of the famous crooner Frank Sinatra, regularly stayed at The Sands Hotel in Las Vegas and apparently it got pretty wild when they rolled into town. In fact, Sinatra was a Las Vegas fixture for 43 years, from his first gig in September 1951 at the Desert Inn until May 1994 with his last performance at the MGM Grand Hotel.
---
Now that you've read all our facts about Las Vegas, test your knowledge and take the 20-question quiz!