Last updated January 3, 2023
Known for remarkable food and stunning landscape views, Vietnam is a fascinating country. Historically rich with events that have shaped the cultural landscape, Vietnamese people are known for being warm and welcoming and open to travelers looking to explore landmarks like Son Doong caves, taste local food (even snake wine!), and soak up the hot climate on a white sand beach. We can also thank this Southeast Asian country for being the world's largest exporter of cashew nuts and black pepper! There are so many fun facts about Vietnam that it was hard to narrow them down for this post, but read on for more.
---
Consider yourself already an expert on Vietnam? Then go ahead and test your knowledge with our Vietnam quiz! Or if you're not quite ready for that, keep reading on to learn some fun and interesting facts.
---
---
25+ Fun Facts about Vietnam
Vietnam Culture
~ Gift-giving is a common practice in Vietnamese culture, especially during special holidays such as the New Year. Some traditional gifts that are commonly given include alcohol, like rice wine or snake wine, or other Vietnamese food items such as fruit or candy.
~ However, gift-giving can also be tricky to navigate in Vietnamese culture. Many items are considered inappropriate and actually offensive if given as a gift. These include such things as watches, umbrellas, and glasses or cups.
~ One of the more interesting facts about Vietnam is that Vietnamese culture is actually full of mythology. There are many gods that make up Vietnam's mythology canon, one of which is called Ong Tao. According to traditional Vietnamese folklore, Ong Tao is a god that can be found primarily in the kitchen. It is said that during the New Year, Ong Tao rides a carp to heaven to share the news from Earth with the gods.
~ Many of Vietnam's villages also worship a Thanh hong, or 'God of the village'. Thanh Hong protects the village from harm and guides the villagers. When a villager is recognized as a hero or as someone who has made a significant contribution to the village, it is traditional for them to be designated the Thanh hong.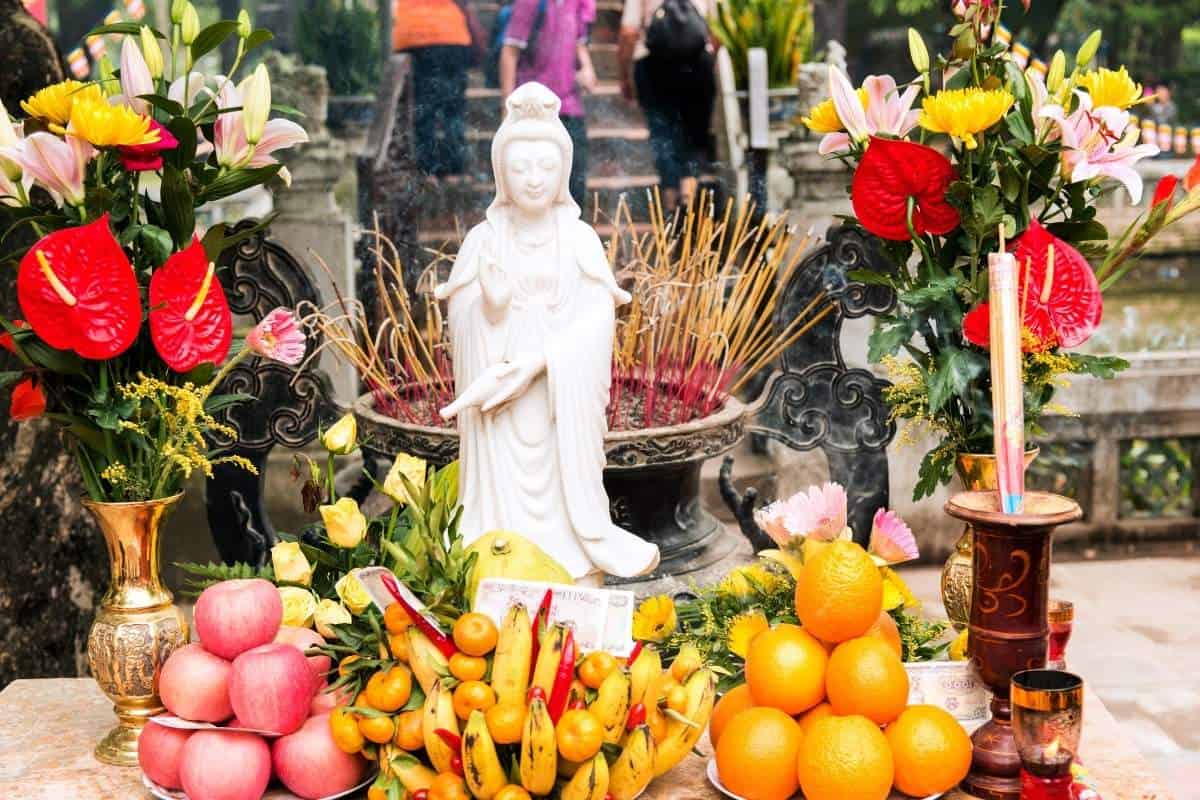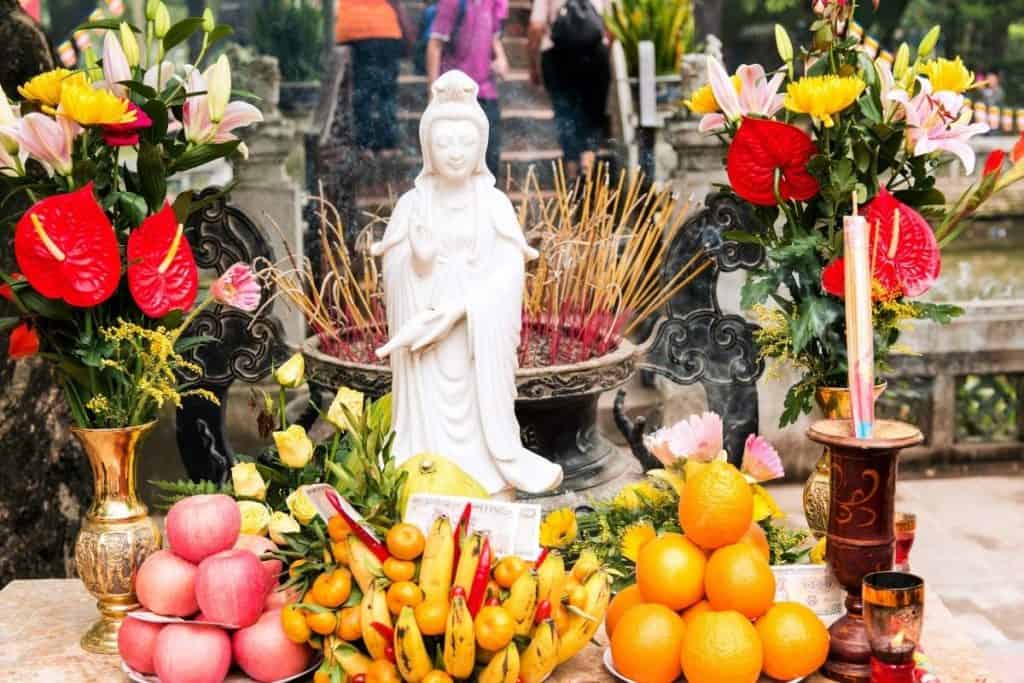 ~ Because of Vietnam's long history with China, much of its culture, especially in the north, has been heavily influenced by the Chinese. The holiday season is a prime example of this. Tet is the Vietnamese equivalent of New Year's Eve in a western country. It celebrates the Chinese Lunar New Year. Celebrations take place across the nation in February and last a month, during which time students get time off from school and families exchange red envelopes full of 'lucky money'.
~ Crossing the street can be a scary experience for newcomers to Vietnam due to the high number of motorbikes. There are estimated to be over 45 million motorbikes in Vietnam (almost one motorbike for every two people), and motorbikes vastly outnumber the number of cars on the road. Many tourists partake in the tradition of buying motorbikes to drive across the country.
~ Water puppets are an integral part of the traditional culture of Vietnam. The shows tell stories that detail the history of Vietnam and are enjoyed by tourists and locals alike. They made their debut over a century ago as part of the annual rice harvest celebrations.
~ Sepak Takraw is a beloved national sport for the Vietnamese people. Similar to volleyball, it involves using the feet, instead of the hands, to pass a ball back and forth over the top of a net.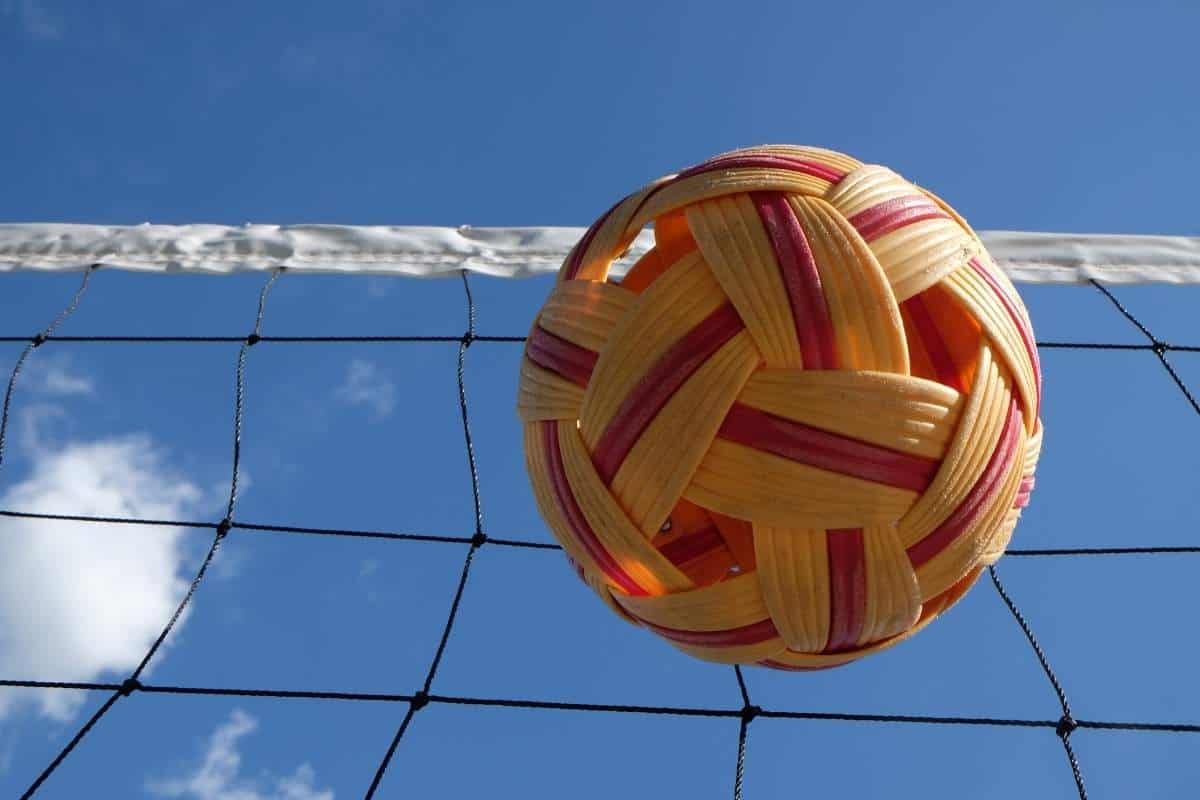 ~ Due to empiricism and colonization by many countries over the years, not to mention the presence of English-speaking soldiers during the Vietnam War, the current modern Vietnamese language has been heavily influenced by Chinese, French, and English. It is a tonal language, and you can hear different dialects of it depending on where you are in the country. It belongs to a large language family known as Eastern Mon-Khmer.
~ The Lunar calendar is followed to celebrate traditional events in Vietnam. For example, Vietnamese locals celebrate their New Year, known as Tet, which is the most important festival of the year in February.
Vietnamese Economy and Government
~ The population of Vietnam was estimated at around 97.34 million people in 2020. Among others, it consists of Vietnamese, French, Chinese, and Viet descendants.
~ Ho Chi Minh was a revolutionary who formed the Indochinese Communist Party in 1930. Affectionally referred to as 'Uncle Ho', Ho Chi Minh was an amazing and charismatic leader who advocated strongly for the independence of Vietnam from foreign forces. At the end of WWII, after Hanoi was seized, Ho Chi Minh became the first president of the Democratic State of Vietnam.
~ Vietnam has both a president and a prime minister, who is elected by the leader of the country. The current president is called Nguyen Xuan Phuc and the current prime minister is Phạm Minh Chính.
~ The Vietnamese currency is called a Dong. It was adopted by the Vietnamese in 1978. Because of chronic inflation, the Vietnamese government ceased the production of Dong coins in the country in 2003, and now only paper notes are printed, although coins can still be found occasionally. The smallest bill available in the country is 200 Dong, worth less than $0.01 in USD.
~ Due to its hot climate and abundant rainfall, Vietnam is a very agriculturally productive country. Its main export crops include black pepper, cashew nuts, rice, coffee, and tea. Vietnam is the world's leading exporter of cashew nuts, with over 380 thousand metric tons of cashew nuts produced in Vietnam in 2021. No wonder the small country is often referred to as the "King of Cashews".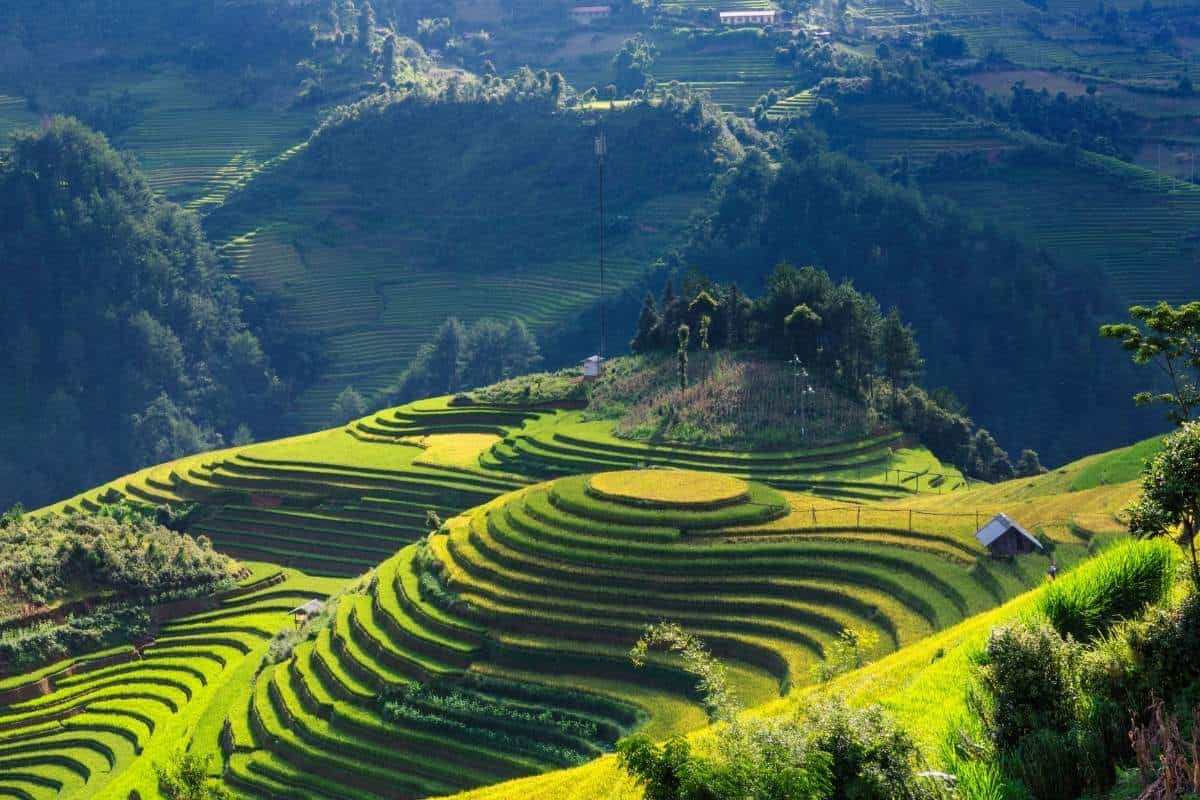 Vietnam Geography and Weather
~ Originally, the country of Vietnam was spelled as two words: Viet Nam. 'Viet' is a word that predates the common era, and 'nam' is a Chinese word meaning 'south'.
~ Vietnam is characterized as a hot country alongside many of the surrounding tropical countries of Southeast Asia. However, the northern regions of Vietnam can get quite cool, and parts of the country have even seen snow. In January 2021, locals of the North Vietnamese region of Sa Pa woke up and were delighted to see the Ô Quy Hồ Mountain Pass covered with a fluffy blanket of snow.
~ Ha Long Bay is one of the most famous UNESCO World Heritage sites in Vietnam is comprised of nearly 2,000 islands and incredible limestone karsts. It's one of the most popular tourist destinations in the country and draws in nearly 3 million visitors per year.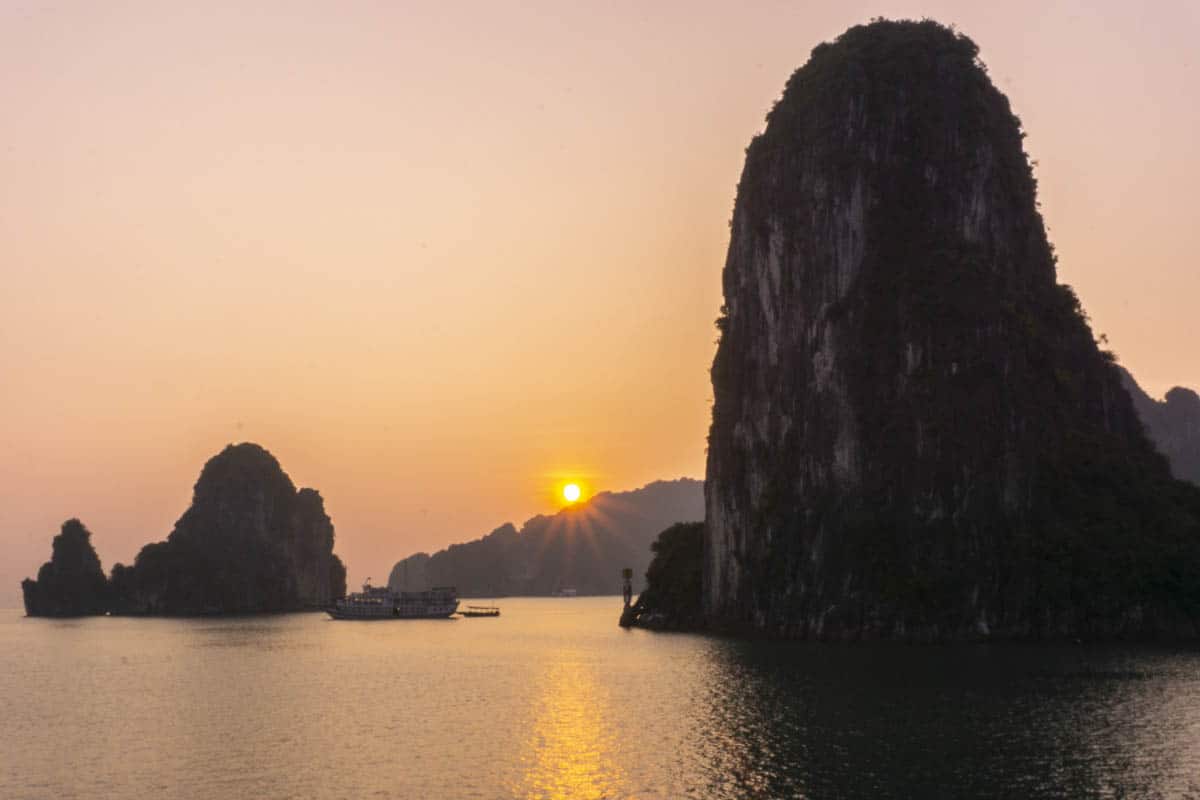 ~ Not only are the tropical waters a popular destination for boating excursions and lively tours around the bay, but quite a few big-budget movies have been filmed in the bay, as well. James Bond and Pan were both filmed in Vietnam, and the newest remake of Kong was filmed in Northern Vietnam's Monkey Bay.
Vietnamese Food
~ A staple in most Vietnamese dishes, rice is the most important crop grown in Vietnam. The Red River delta regions of Northern Vietnam and the Mekong Delta region in the south are exceptionally well-adapted for growing rice.
~ Bánh mi is a famous Vietnamese food that came about during the French occupation. The story goes that when the Vietnamese people began incorporating the soft, crusty baguettes brought over by the French, they used local favorites like cold cuts, pate, and a sprinkling of Vietnamese herbs and seasonings, as the filling. Foodies believe that the sub, now synonymous with Vietnamese culture, was created in Saigon.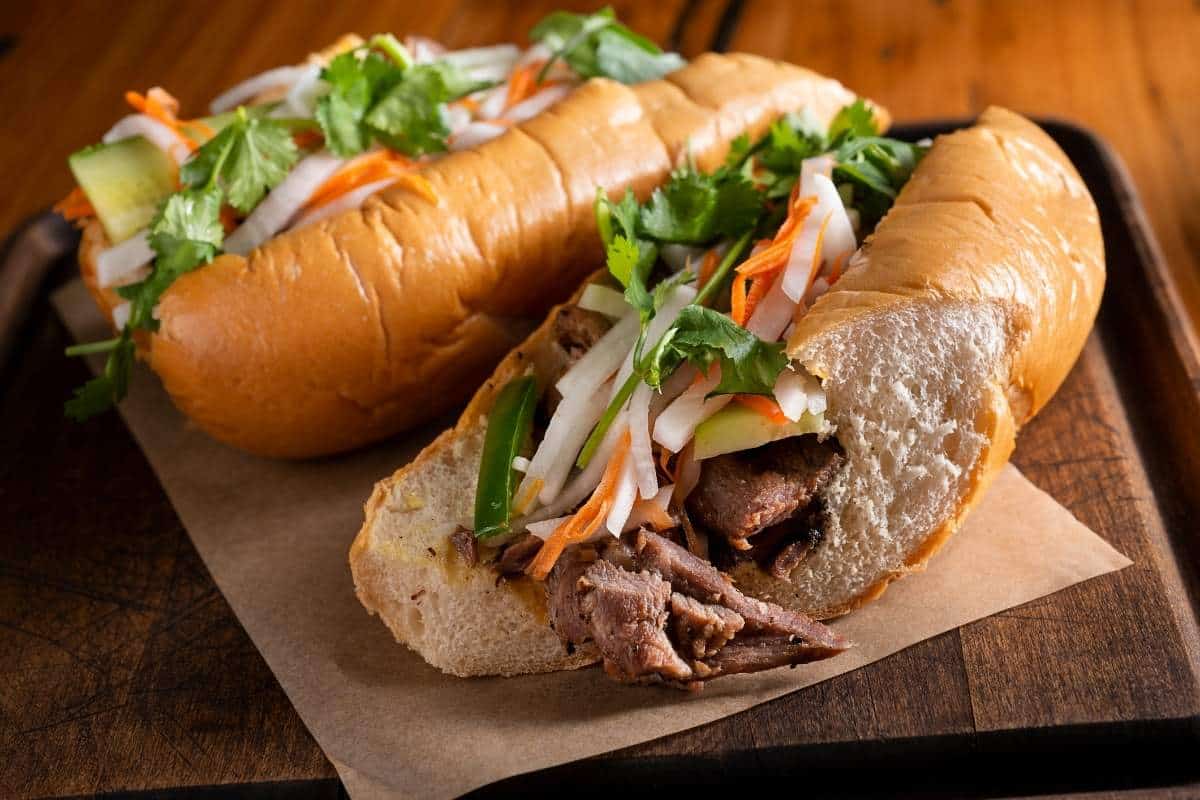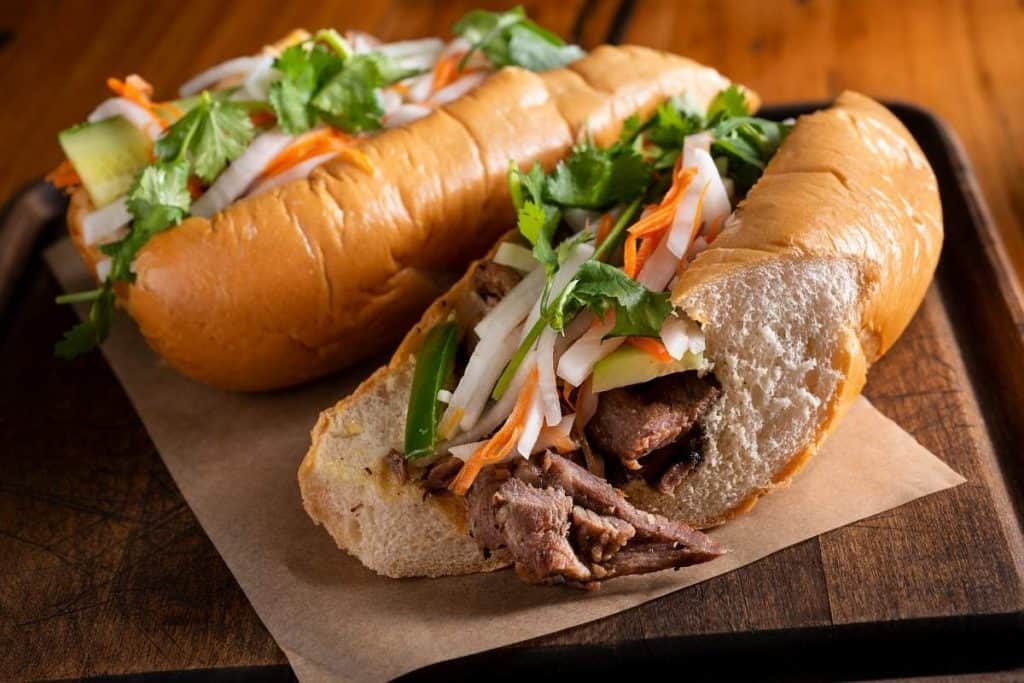 ~ Definitely one of the more outlandish of the interesting facts about Vietnam is the fact that snake wine is one of the most popular and famous alcoholic drinks in Vietnam! Originally coming from China, snake wine is made by infusing parts of a snake or an entire snake in a bottle of rice wine, but other grain alcohol can be used instead. Bottles of snake wine are a favorite souvenir amongst visitors to Vietnam, and many locals love to invite tourists to partake in a shot of snake wine with them.
~ Coffee was introduced to Vietnam by French colonists in 1857 and has been a major part of the local diet ever since. Vietnamese coffee is brewed by pouring hot water through a sieve filled with coffee grinds, which then drains into a small mug. Vietnam is the second largest producer of coffee in the world after Brazil.
Vietnam History and Geography
~ The Vietnam War ended on April 30, 1975, when North Vietnamese soldiers rolled into the then-capital of Saigon and took the Presidential Palace. After years of fighting between the Viet Kong and American, forces, Vietnam officially became an independent nation known as the Socialist Republic of Vietnam. The capital of Vietnam was moved to Hanoi and Saigon was renamed Ho Chi Minh City.
~ The capital of Vietnam is now the northern city of Hanoi, but at one time, the central city of Hue served as the capital of the country. It was the seat of the Vietnamese Nguyen dynasty, which ruled over Vietnam for over a century. The former Imperial City is now a major tourist attraction, surrounded by a moat and filled with decaying palaces and shrines. People come from countries all over the world to marvel at the traditional architecture, learn about the culture of the Nguyen dynasty and take tours of the amazing Vietnamese city.
~ The Southern city of Saigon was named Vietnam's capital in 1949. On April 30, 1975, when northern soldiers captured the city of Saigon, they renamed it Ho Chi Minh City as a tribute to Ho Chi Minh, a revolutionary leader much loved by the Viet Kong. The capital was then moved to the northern city of Hanoi. Hanoi remains Vietnam's capital to this day.
~ Vietnam is home to the world's largest cave, Son Doong Caves. One cavern of the Son Doong Caves is so large that a Boeing 747 could fly right into it. In some places, the roof has caved in and many trees and other plants began to grow, creating a unique ecosystem within the Son Doong Caves.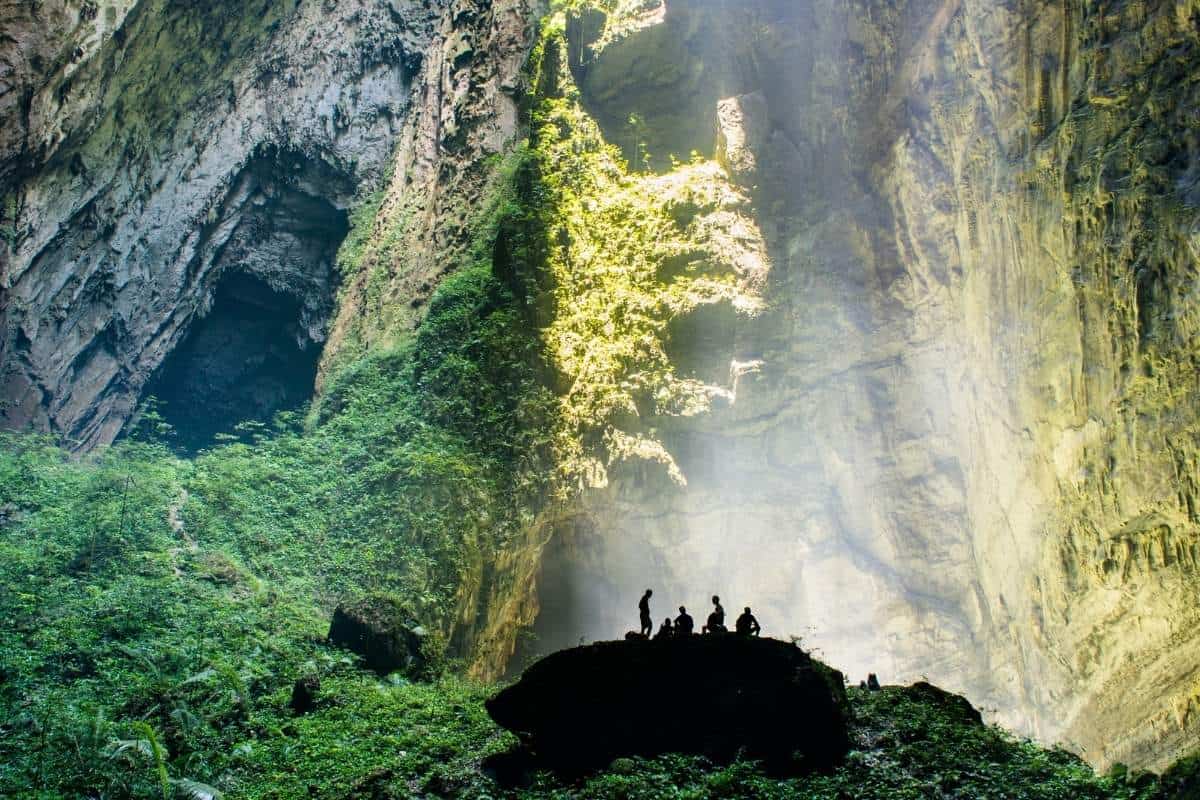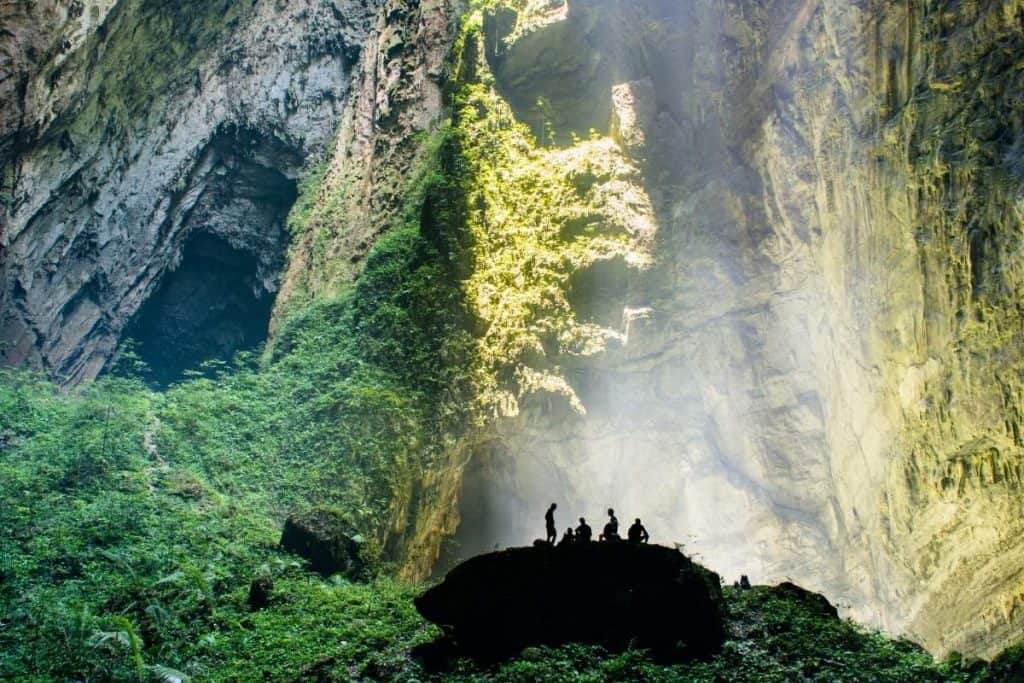 ~ The flag of Vietnam was designed in 1940 and is one of the most recognizable flags in Southeast Asia. The red background symbolizes the revolutions and bloodshed of the Vietnamese people and each point of the star represents one of the five classes of society.
~ The Complex of Hué Monuments is now a UNESCO World Heritage Site but from the period of 1802 to 1945 CE, it acted as the political, cultural, and religious center under the Nguyen Dynasty, the last royal dynasty of Vietnamese history.
~ A purely geographical fact about Vietnam: Vietnam is shaped like the letter "S"!
---
Now that you've read our facts about Vietnam test your knowledge and take our 20-question Vietnam quiz.